News
AA Bargaining in Full Swing with Strong Member Support

Bargaining between the CWA-IBT Association and American Airlines started on October 4th in Dallas and continued in November, with a new round scheduled for January 16-18, 2023.
Mainline passenger service agents across the country are standing together for a fair contract and improvements in the workplace that we need and deserve after risking our health and sacrificing time with family over the past few difficult years to ensure passenger safety. Flight attendants and pilots are also in bargaining.
Intense preparation and training last summer allowed the bargaining teams to bring strong proposals to the table based on a survey of CWA-IBT Association members. The proposals include significant wage increases, more affordable healthcare, limits on mandatory overtime, stronger safety protections, and better language around transfers, overtime, and swaps.
"We are committed to fighting as hard as we can for an agreement that reflects the respect that agents deserve," said bargaining team member James Womack (Reservations). 
By the end of November, tentative agreements had been reached on four articles, including: 
Article 1, Purpose of Agreement. New language would require the Company to discuss any changes to the Agreement with the Union.

Article 8, Seniority. A change in pronouns with no change in meaning.

Article 10, Temporary Employees. New language would require the Company to discuss with the Union the number of employees and the duration to be filled within the duty assignment. The language would protect current employees from being displaced as defined in the contract.

Article 22, Probation. New language would allow members to bid when qualified.
Our bargaining teams have been sharing regular, accurate updates on Facebook; on the website, american-agents.org; and via email and text messages. If you haven't received those updates, please make sure we have your personal email address and cell phone number by filling in this form. And encourage co-workers who may not already be on our email and text list to join.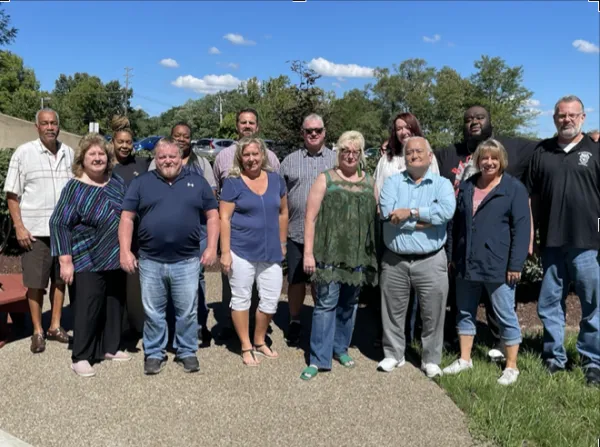 Our CWA-IBT Bargaining Teams. Back Row: James Womack, Jarla Evans (CWA District 3 Staff), Anetra Session (CWA District 6 Staff), Chris Peifer (CWA Attorney), Tony Abrams, Tammy Scott, Que Naugle
Front Row: Marge Krueger (CWA Chairperson), Tom Gunning, Lynn Koch, Tara Kelly, Nate Gushi (IBT Business Agent), Kim Barboro (IBT Chairperson), Greg Vandagriff (IBT Business Agent)

The bargaining teams will continue to release as much information as possible without undermining our primary goal of winning significant improvements in our next contract.
You can help make our efforts successful by showing the company that we are united and willing to stand together for a fair contract.
Keep sending us your Solidarity Selfies by email to Info@American-Agents.com. To see all the photos of our amazing agents, take a look at the Facebook album here.
Stay informed, wear your union pins, and be sure to get involved in mobilization actions in the New Year. Remember, we're stronger together!
CWA Member Survey Improves FAA Reauthorization Bill
OSHA Finds Piedmont Guilty in the Preventable Death of Passenger Service Agent Courtney Edwards
Remembering Passenger Service Agents Edwards and Hudson