News
Piedmont Stewards Meet for a Deep Dive on New Contract

On January 4-7, 2019, CWA Local 3645 hosted over 50 shop stewards from 22 stations in District 3 at its third annual Steward Leadership Conference in Charlotte, NC. Special sessions were added to steward training this year to help them clearly understand the details of the new Piedmont contract so that they will be able to answer any and all questions that arise from the workers they serve back home. The training consisted of hands-on activities and conversations about a variety of topics, including how to file a grievance, how to conduct a step-one hearing, how to develop good relationships with management, how to prepare for the system board of adjustment, and even basics about the CWA constitution and the role of the union.
Our local decided to start our own steward leadership training because we realized that stewards are often trained in the theory of being a steward, but not the practical side. At the January conference, members from the bargaining team that negotiated the new contract helped stewards interpret issues that were confusing. Marge Krueger, bargaining chair; Vonda Hardy, CWA staff representative; Anthony Barden, President of CWA Local 3645; and I were all on hand to answer questions.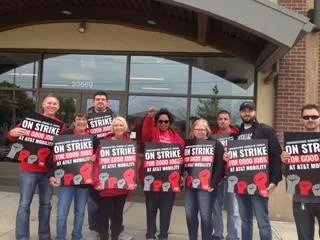 All the agents who came to the meeting were highly engaged in the process. Bob James, IV, a ramp agent from Huntsville with more than 12 years of experience said, "I most definitely got clarity on the new contract. The fact that Marge Krueger and the other members of the bargaining team were there and willing to be open and honest about all our questions was really beneficial." Bob added that his team at HSV is amazing. "We've been fighting for improvements for a long time, and through system board meetings and our persistence—all of us working together—we've seen some positive changes in Huntsville."
Jayla Gordon and Mercy Littlejohn are both gate agents at CLT who attended the conference. Mercy said that when she came into the meeting, she and her coworkers had a lot of confusion over mandatory overtime and the language of the contract. "The bargaining team experts broke it all down so that it was clear—not blurry—and they also gave us insight into how the issues were negotiated. It helps to really see what goes into the bargaining process." In addition to overtime, Jayla said she had some specific questions about seniority in the new contract, and she appreciated the opportunity to talk directly to the bargaining team. "I liked the openness of this training. We got hands-on experience and involvement from all the stations. I enjoyed meeting and connecting with new agents from across the district  too."
Darryle Williams, Executive Vice President from Local 3645 said, "It is imperative for our stewards to get the tools they need to be successful. That's why we dedicate countless hours to putting on this event every year."
We were so happy to be able to host this event and send the stewards back home to enlighten their agents.
CWA Member Survey Improves FAA Reauthorization Bill
OSHA Finds Piedmont Guilty in the Preventable Death of Passenger Service Agent Courtney Edwards
Remembering Passenger Service Agents Edwards and Hudson