News
Piedmont Workers Stand Together at CLT
"We're Worth More!"
In Charlotte, North Carolina, last week, more than two dozen members of Local 3645 mobilized to call attention to low wages and difficult working conditions at Piedmont Airlines. The mobilization took place during an annual charity event on the tarmac, where airport workers were raising money for the United Way.
At the event, managers and executives—including Piedmont President Lyle Hogg—watched Piedmont ramp and gate agents turn their vests inside-out in protest, linking arms with their backs to the crowd. The message was simple and powerful: Solidarity! Kevin Silver, a ramp agent, explains that he was proud to stand with his brothers and sisters to show the company that, "We need better wages, and we're worth more."
The event included barbecue and cake, but during the action, the workers refused to take the food. They distributed round tokens to Piedmont executives who were serving the cake. "The tokens said to Piedmont leadership that we need and deserve better wages," says Kevin. "Right now we're doing more work than ever, without enough manpower, and making only $15 an hour. We all have to feed our families with our wages. I've been working at PIedmont for 11 years, but I still make less than a kid working at a movie theater."

Conway Bernard, a 16-year Piedmont veteran, agrees. "We were trying to educate management to understand our pain. Piedmont is not a mom and pop airline anymore, so they have to change. A lot of Piedmont workers have to work double shifts just to survive." Kevin adds, "We're doing the same jobs as mainline workers do—and the planes couldn't fly without us."

[caption caption="Piedmont President Lyle Hogg meets with agents at CLT"]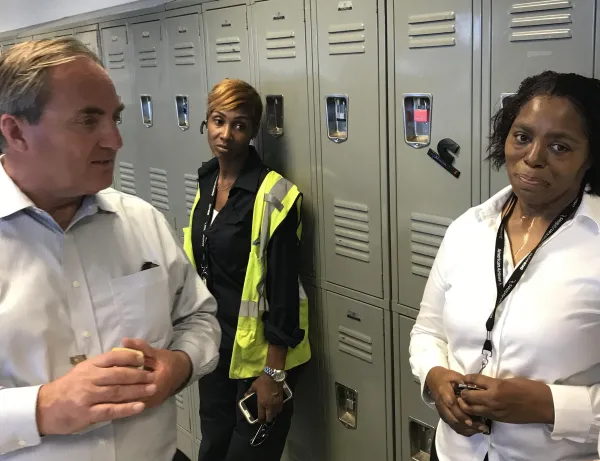 [/caption]
After the mobilization on the tarmac, Kevin and Conway joined other Piedmont workers and executives crowding into the company break room to talk about workers' concerns, the pride they take in their work, and what they expect in return. Bernard was happy to see younger workers speak up along with the older workers, and he thinks President Hogg was surprised by a lot of the stories he heard. Bernard is a ramp agent, but also the Safety Representative for Local 3645. "We've had accidents lately that shouldn't happen, and the issue of safe equipment has to be talked about along with the need for higher wages and more people."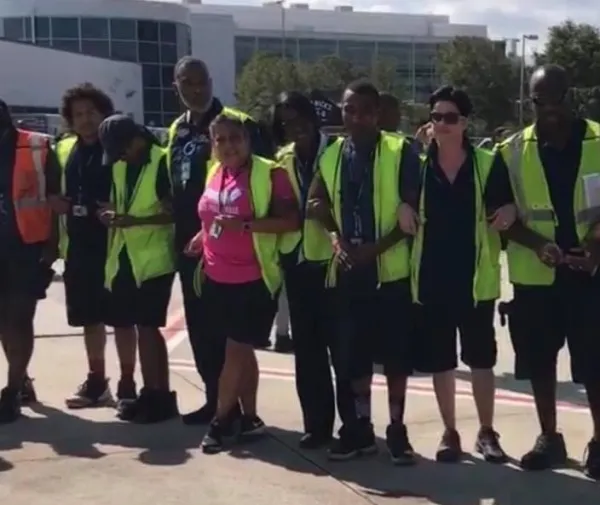 "I think the execs heard us," says Kevin, "but the question is: Will they act on it? If it was their son or daughter working the ramp or working passenger service—would they accept these wages? The answer is no." Conway says they want to give President Hogg a chance because he's new in the position, "He said he'd look into all the issues we brought up. We'll know if there's going to be any change at the next bargaining meeting."
Anthony Barden, President of Local 3465 in Charlotte, is proud of all the workers who joined in the action last week. He encourages Piedmont employees at other stations across the country to do the same. The Piedmont workers' negotiating team heads back to the bargaining table with the company November 6-9. Major proposals related to compensation and benefits will be discussed, so this is the time to make our voices heard.
This is the time for solidarity.
[caption caption="Thank you to our brothers and sisters of Local 7040 in Phoenix for standing in solidarity with Local 3645 in Charlotte!
"]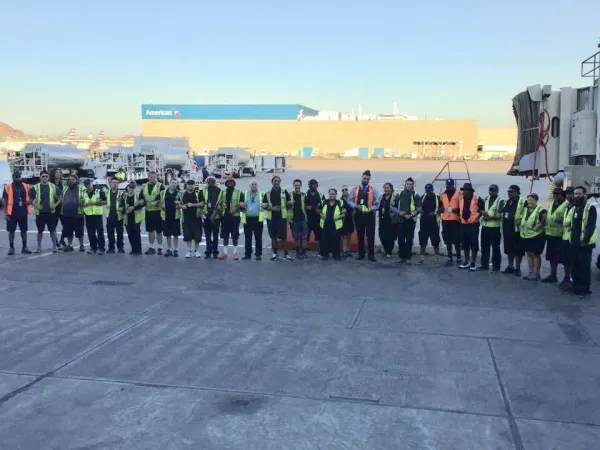 [/caption]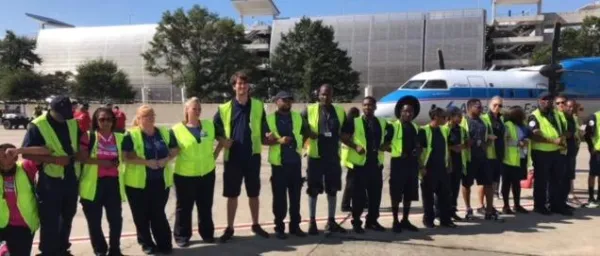 CWA Member Survey Improves FAA Reauthorization Bill
OSHA Finds Piedmont Guilty in the Preventable Death of Passenger Service Agent Courtney Edwards
Remembering Passenger Service Agents Edwards and Hudson