News
"Poverty Wages Shouldn't Fly!" Good Jobs Good Airports National Day of Action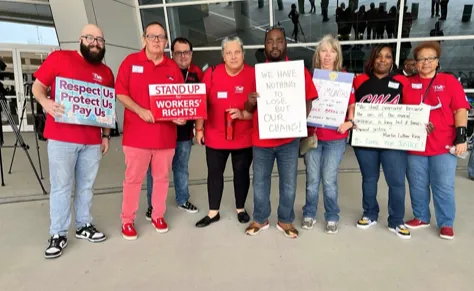 On December 8, a coalition of aviation workers—including members of CWA, UNITE-HERE, SEIU, and allied organizations—came out in 15 cities across the country to advocate for improved national labor standards under the Good Jobs for Good Airports Act (GJGA). This legislation would set national wage and benefits standards for essential airport and airline workers to ensure a livable wage that would allow us to take care of ourselves and our families. It's been almost six months since the GJGA was introduced, and it remains stalled in Congress.
You can see more photos of the Day of Action here. And send a message to Congress to urge them to pass the legislation here.
 
Every airline worker in the country has been on the frontlines since the pandemic began almost three years ago, protecting the safety and comfort of passengers.

"Despite risking our health and safety to keep airports operational, direct airline employees have not received the pay or protections we deserve," said Piedmont agent and CWA Local 3645 President Donielle Prophete in an event held in Charlotte, North Carolina where members from Locals 3641, 3642, and 3645 rallied together. "These protections are especially important for employees of American Airlines' wholly-owned regional carriers, Envoy Air and Piedmont Airlines," she said. 
At MIA, where more than 80 members turned out for the rally and press conference, CWA Local 3146 President James McKnight said, "We stand in solidarity with our coalition partners to fight against the fractured nature of employment in the aviation industry, where carriers pit direct employees and contractors against each other to undercut wages and benefits." He explained that airlines often pay lower wages to regional airline employees, despite performing the same duties—often alongside mainline  counterparts.
The bill would reduce pay gaps between regional and mainline workers by setting minimums based on the airport's location. The bill would also address state preemption of minimum wage laws, which make it difficult to increase wages and benefit standards above the federal minimum of $7.25/hr. A national standard would also help address the additional burdens of stress, fatigue, and fear of assaults from unruly, enraged, and inebriated passengers.  

"Throughout the pandemic, my members kept our nation's air transportation system running safely and effectively. Frontline workers were expected to be at work, despite the risks to our personal safety," said President McKnight. "We continue to perform our duties despite the risks, all the while being overworked and underpaid. More than 75% of my members work part-time jobs, including myself, in order to make ends meet and support our families. Miami International Airport is the state's largest economic engine and it is a shame that my members cannot survive on the wages they earn."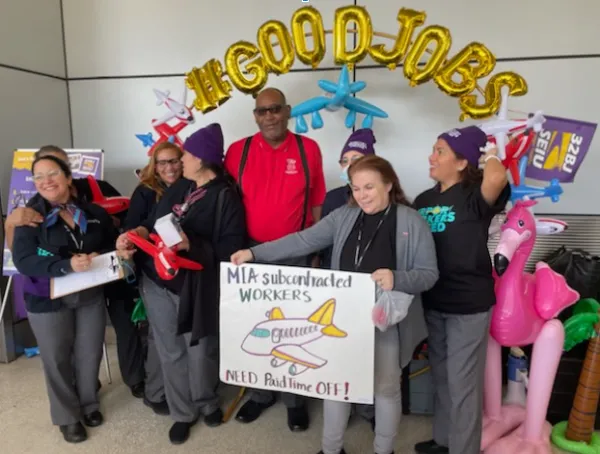 At MIA, CWA members, including Local 3146 President James McKnight, came out to call for respect and livable wages on November 8

On top of their low earnings, agents have been the target of verbal and physical assaults, including getting punched, kicked, spit on, or verbally disparaged just for performing their duties. After an attack, members must take unpaid time away from work to fight the incident in court, putting an even greater strain on their finances. For agents who are the primary caregivers of their family, sometimes missing even one day could have significant consequences.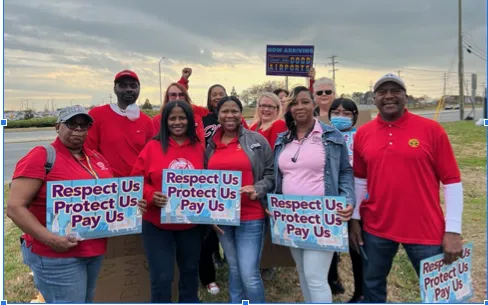 Members of CWA Locals 3641, 3642, and 3645 came out to show their support for the Good Jobs Good Airports Act on December 8th!
 
Take a few minutes now to send a message to your Members of Congress urging them to support the bill, by clicking here. 
CWA Member Survey Improves FAA Reauthorization Bill
OSHA Finds Piedmont Guilty in the Preventable Death of Passenger Service Agent Courtney Edwards
Remembering Passenger Service Agents Edwards and Hudson