News
From Rio to TYS: A New Piedmont Steward Shares Her Journey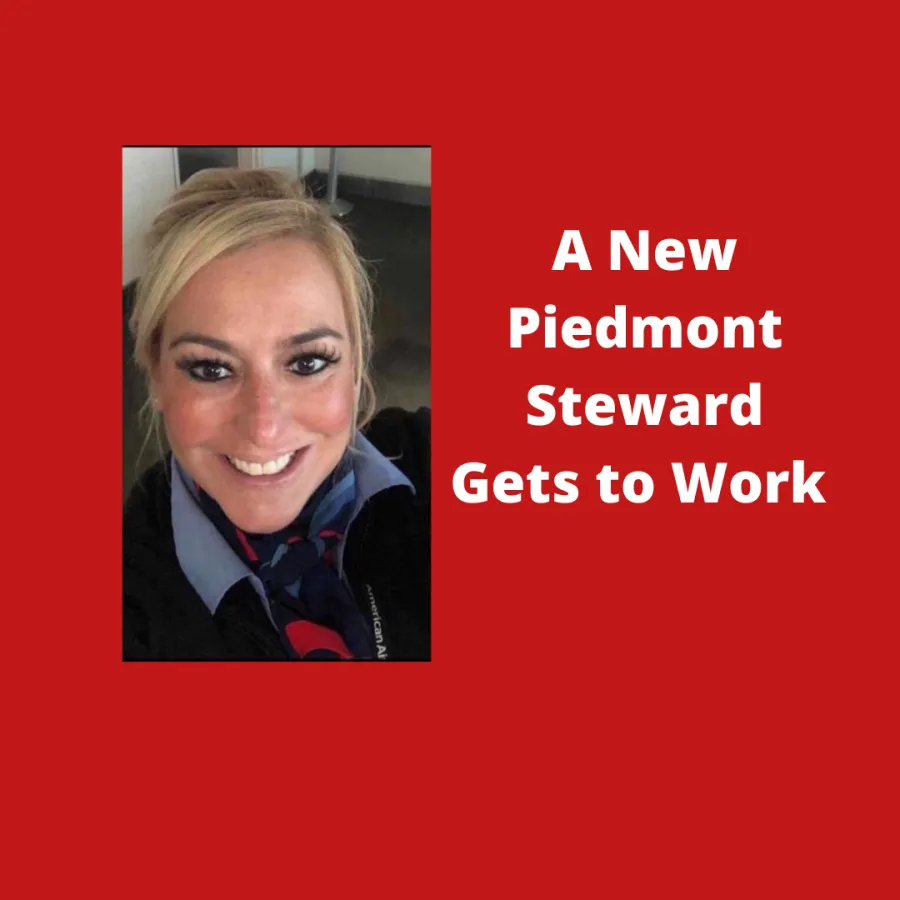 One of Piedmont's newest stewards took a long, international route before landing at TYS in Knoxville. Adriane Whitworth grew up in Brazil and worked there many years for Continental and then United before fulfilling her dream of moving to the United States. Her job with United took her to Houston before she landed at USAir and American Airlines in Nashville and finally at Piedmont in Knoxville. We talked to Adriane about her experiences as a passenger service agent over the difficult past year and her goals as a new steward.
What's your position at TYS?
We're a small airport, but extremely busy with over 20 flights a day, so we all do everything, working at the gate, cargo shipments, ticket counter, kiosks. I feel like I have a lot of knowledge about all the positions now that I didn't have when I was at mainline, but it's also hard for new hires to learn so many different things. It can feel overwhelming.
Do you have a favorite position as an agent?
I like them all, but lately I look forward to cargo because passengers have become so challenging. We've all been dealing with the boom in travel, delays, and lack of staff. That's one reason I decided to become a steward. I want to help resolve some of the issues that agents are struggling with right now.
What are some of the day-to-day challenges now that travel is on the upswing?
Since Memorial Day weekend we have been so busy here that sometimes there are lines going outside the airport. We don't really have enough agents to handle that many passengers, and things are getting more and more stressful. I told myself that instead of complaining or asking someone else to do what I'm capable of, I should just become a steward. I think I can make a difference. Now we're creating a bid committee and with my experience in scheduling I think we can help get all the shifts covered and have sustainable ways to talk with management. My feeling is that if I can communicate well with managers, we can make progress. 
How did steward training go?
I absolutely loved the training. Our CWA rep Jar'la Evans who did the training  was excellent. I can't imagine a better group. Donielle Prophete, Darryle Williams, and the whole leadership of Local 3645 make us feel supported. No matter what we need, they are there for us. We learned so much about the contract that I didn't know. My English is fluent, but the legal language in the contract can be tricky. If you don't have that solid knowledge of the rules, there is no way to come up with viable arguments for your point of view and no way to convince management to make changes. You don't need to be aggressive, but you need to talk it out and make sure that agents' voices are heard. And of course, always document everything!
What challenges are at the top of your list in the coming months?
As a steward, I want to make sure agents understand we are all equal and deserve fair treatment. I get upset when I see an agent—especially a new agent—who is struggling and not getting help. Everyone needs some coaching while they're learning. I want to support my peers whenever I can and help them avoid stress and conflict with management. I want to deal with real problems that I see every day. We have big issues that need to be solved in a professional manner, and I think I got the tools I needed at the steward training to do that.
CWA Member Survey Improves FAA Reauthorization Bill
OSHA Finds Piedmont Guilty in the Preventable Death of Passenger Service Agent Courtney Edwards
Remembering Passenger Service Agents Edwards and Hudson