News
Vaccine Rollout and Incentives: What You Need to Know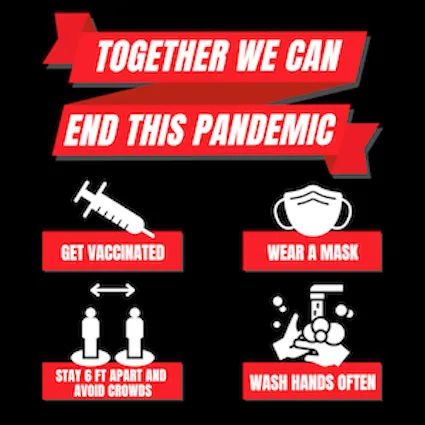 On April 6, President Biden moved the deadline for states to make all adults eligible to get a coronavirus vaccine to April 19. Many states had already expanded their eligibility requirements as more doses became available. To encourage employees to be vaccinated, American Airlines announced an incentive program that applies to all American Airlines Group employees based in the United States, including those at Envoy and Piedmont. The incentive amounts to one paid vacation day to be taken in 2022 and $50 worth of points in the recognition program.
CWA has advocated throughout the pandemic to get our members on the frontlines of aviation on priority lists for vaccination. We've called on the federal government to put vaccination centers in airports in order to protect workers and eradicate COVID-19. We've seen successful vaccination events for airport employees in Charlotte, Los Angeles, Miami, Philadelphia, and Pittsburgh, with more to be scheduled in the future.
If your location does not offer workplace vaccinations, check with management to help you arrange a time to be vaccinated elsewhere.
The availability of appointments still varies state-by-state, so we've gathered some tips that may be helpful as eligibility opens up across the country.
1. Try many sources and locations to see if the vaccine is available. Don't limit yourself to one source.
There is no single, central source where you must go to get the vaccine. Some states have mass vaccination sites that may be worth a longer drive. You can usually check online at your state or local health department, pharmacies and grocery stores, and your primary care doctor or clinic. One place to start is the clearinghouse VaccineFinder, which will show you many of the options in your area. 
2. Read all the online documentation.
Your state, county, city and health systems should have information about their vaccine processes on their official websites and social media accounts. Keep checking regularly for changes.
4. Have all your information ready.
If you're booking an appointment online or on the phone, make sure you know your own medical history and have your ID ready. Remember: The COVID-19 vaccine is supposed to be free, but check with your provider and insurance company to find out if there are any administrative charges for care.
Make sure to tell your vaccine provider if you've had an allergic reaction to other vaccines in the past. The CDC recommends that if you have a history of allergic reactions that aren't related to vaccines or injectable medicines, you should still get vaccinated.
5. Don't risk your health scavenging for a vaccine in-person.
It's tempting to go to pharmacies or other sites to try to find a few leftover vaccines or grab an appointment someone may have missed. But that puts you at risk if you're waiting indoors with other people.
6. Help others, if you can!
Share information with your co-workers, friends, families and neighbors, and let people know if there are vaccine openings.
If you'd like more information, here are a few great resources:
·       The essential COVID-19 vaccine FAQ (PBS)
·       What to Expect at Your Vaccine Appointment (CDC)
·       Why Everyone Should Get Paid Time Off For The COVID-19 Vaccine (Huffington Post)
CWA Member Survey Improves FAA Reauthorization Bill
OSHA Finds Piedmont Guilty in the Preventable Death of Passenger Service Agent Courtney Edwards
Remembering Passenger Service Agents Edwards and Hudson