News
Wage Increases Top Priority List in Envoy Survey
By James McKnight, Envoy agent and member, CWA Bargaining Team
Last month Envoy agents voted not to ratify the tentative agreement reached between the company and our bargaining team in January. Now, the results of our CWA-Envoy bargaining survey are in. The survey responses will shape the bargaining team's strategy as we negotiate changes to the tentative agreement. 
Wage Increases are clearly the most important issue for our members, with 96% rating this as a top 1, 2, or 3 priority. Almost tying for second place were Wage Scales (56%) and Bonuses (54%). About 30% of those who took the survey said that Health Insurance Costs are a top priority, followed by Length of the Contract (26%) and Vacation (22%).
Our first meeting with Envoy is April 17-19. As a member of the bargaining team, I know that we will be focused on winning improvements in all the areas highlighted in the survey, but we can't do it alone. We need strong and visible support from our members at every station—that really means everything when we're sitting across from the company's negotiators. Members at DFW have scheduled a big Rally for Fair Wages for April 17, and we've had some amazing photos of members from across the country posted on Facebook, showing our solidarity in the "green wave."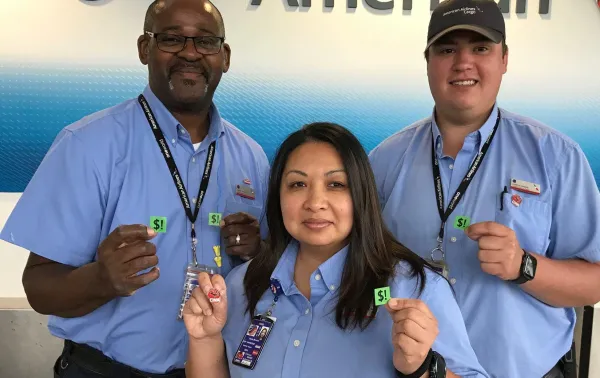 At MIA, we're planning shop steward classes for our new wheelchair attendants so they will understand the power of a union. We're looking forward to their input and support as we move through this new bargaining process to achieve a livable wage for everyone. 
You can get more involved by sharing this link with your coworkers so they can sign up for updates and alerts. And you can wear your CWA pins and stickers to show support for our bargaining team. If you need a pin or sticker, send an email message to us at info@envoyagents.org. If you'd like to join the Mobilization Team, just contact your local organizer or fill out a contact form here.
I also want to encourage everyone to support each other as passenger service agents, whether you're at Envoy, Piedmont, or American—and to support workers in other industries too. For example, this month I'm joining a commemoration of the successful fight for a union for janitors at the University of Miami—which included janitors and students joining forces in a hunger strike. When you see someone walking a picket line or having a rally, why not step in or give them a shout of support? We are all stronger together!
CWA Member Survey Improves FAA Reauthorization Bill
OSHA Finds Piedmont Guilty in the Preventable Death of Passenger Service Agent Courtney Edwards
Remembering Passenger Service Agents Edwards and Hudson